Last night Google disappoint everyone with no news and new devices. Google didn't event talked about Nexus 5. Everyone including us was expecting Nexus 5, Nexus 10 second gen and Google smart-watch but there are nothing more than demonstration of new Play Store edition. In a tweet they said
[quote_box author="Google play" profession=""]We're celebrating our favourite books, games, music and more of past and present tonight. Stay tuned! #googleplay [/quote_box]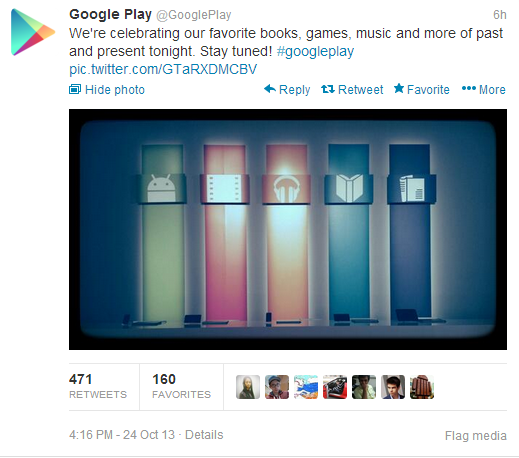 So, there was a big disappointment last night at Google play store event. Everyone is asking that Google will release Nexus 5 in October but October is just at its end and Google is not even talking about upcoming devices, what you think when will Google release Nexus 5 and other devices?
Everything about Nexus 5 is clear but still nobody knows about exact release date, now rumours are Nexus 5 and other devices will be unveiled on 28 October. All of us know that Google will have a lot to cover event very soon, let's wait and see when the day comes.
Last night there was no Nexus 5 but there was no live stream too. Everyone knows that Google love to live stream its event through YouTube channel but last night live streaming was also out of reach.
Moreover another interesting thing happened to a lot of people. Android users was unable to sign in their Google account, so Google servers were also down, have a look below.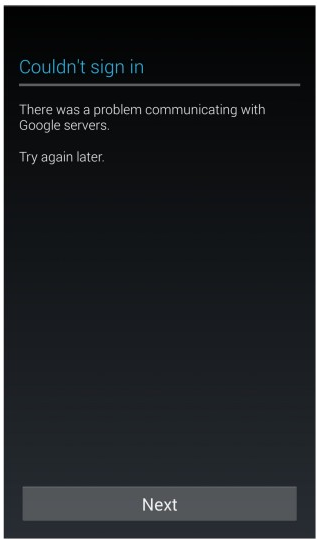 Nexus 5 pre-orders are also available on ebay, but I don't know why they have started pre-orders if they don't knows about the exact date of release. Moreover Nexus 5 cases are also available on amazon even before its release, interesting thing is that people are ordering those cases for their "imaginary phone". Last night a blogger from Geek.com also confirmed on reddit that there will nothing new at Google Play Store event, now be patient and wait for October 28.