Some days ago we were talking about Samsung Galaxy S5 release during mobile world congress in Spain. But according to an Italian journalist Samsung is going to hold its next "Global launch event in March 2014". Next global launch event may be hold for next device in the Galaxy S series that's Samsung Galaxy S5.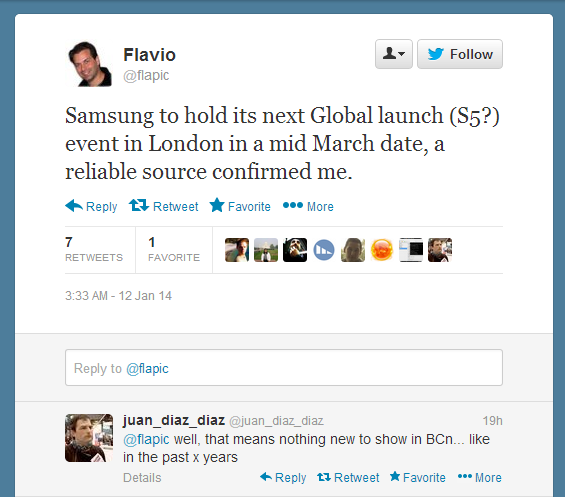 Italian journalist @flapic tweet last night about the event, tweet is embedded below.
Samsung to hold its next Global launch (S5?) event in London in a mid March date, a reliable source confirmed me.

— Flavio (@flapic) January 12, 2014
Many technology reviewers were thinking that Samsung will use MWC to launch its next big product due to the fall in the S4 sales last year. But like Apple Samsung also have big budget to organize their own event and I think they will go for their own event. Moreover on MWC there will many other interesting products like Jolla phone and others.
Samsung has not launched any premium smartphone after Galaxy s2 at mobile world congress and they will also not go for it in the future. Moreover S5 may also have LCD instead of super AMOLED panels to increase the battery life of the device. Although all of these news are just based on rumours, nothing is confirmed until we hear any word from Samsung, stay in touch for more quick news.