Samsung Galaxy S5 release is now just around the corner as everyday is bringing new and more powerful leaks about the upcoming flagship android smartphone by the Korean company. Samsung Galaxy S5 is believed to have 2K resolution and that will be most clear resolution on any smartphone ever. Plus phone will also have newer and bigger battery to support new type screen. Yesterday software leaks of the Galaxy S5 came into our notice. As before evleaks have published software screenshots from the Galaxy S5.
According to the screenshots Samsung Galaxy S5 will have Google now cards like display as shown in the following picture. Moreover software screenshots also tells us phone will run latest android version called android 4.4 Kitkat, plus it will feature its new version of android user interface called Touch Wiz.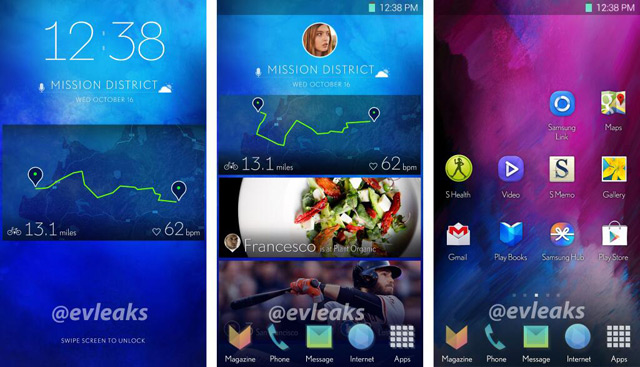 Couple of days ago there was a rumour surrounding in the market that Galaxy S5 will be available in two different models one will be the standard version with normal price and other will be the prime version of the device with extra charges. But like Galaxy S4 the starting price could be $750 for the Galaxy S5.
Moreover Sammobile also confirmed the all model numbers of the Galaxy S5 for different countries and carriers, list is following.
SM-G9006V_CHN_CHN (China)
SM-G9008V_CHN_ZM (China)
SM-G9009D_CHN_CTC (China)
SM-G900A_NA_ATT (AT&T)
SM-G900D_JPN_DCM (Japan)
SM-G900F_EUR_XX (Open Europe)
SM-G900H_EUR_XX (Open Europe)
SM-G900I_SEA_XSA (Asia)
SM-G900J_JPN_KDI (Japan)
SM-G900K_KOR_KTC (Korea)
SM-G900M_LA_VF (Vodafone)
SM-G900P_NA_SPR (Sprint)
SM-G900R4_NA_USC (US Cellular)
SM-G900S_KOR_SKC (Korea)
SM-G900T_NA_TMB (T-Mobile)
SM-G900V_NA_VZW (Verizon)
SM-G900W8_NA_BMC (BMC)
So these are all of the confirmed model numbers for Samsung Galaxy S5. Phone is expected to be launched in the middle of February and in April it will be available worldwide. Stay in touch for more rumours and news about Samsung Galaxy S5.