Everyone is waiting for the upcoming flagship android smartphone from Samsung, that's Samsung Galaxy S5. Rumours about the product are high in the market since many months and now there are a lot of rumours about "confirmed specifications" and even release date of the device. The latest rumour about Galaxy S5 is that it will be available in two different models named as Samsung Galaxy S5 standard and Samsung Galaxy S5 prime.
Both of the models of Galaxy S5 will be available with different specifications. Although most of the features will be same between both models, the main difference will be of processor and RAM. According to an analyst from KGI research "Ming-Cho Kuo" standard version of the device will have eight core Samsung Exynos 5422 processor with 2 GB of RAM and other version of the device Samsung Galaxy S5 prime will have an upgraded Samsung Exynos 5430 processor with 3 GB of RAM. Moreover, unlikely iPhone 5S device will not have 64-bit processor and both versions of the Galaxy S5 will have 32-bit processor.
In addition, both models of the device will have 5.2 Inch WQHD display, 2 MP front camera, 16 MP back camera, 3D gesture support, moreover device will also have fingerprint scanner just like iPhone 5S have.
Right now in the market only iPhone 5S have fingerprint scanner, moreover upcoming flagship smartphone from HTC, HTC One Max will also have same feature, so how Samsung can forget to add fingerprint scanner in its upcoming device as its the biggest rival of the apple's iPhone. Ming-Cho Kou also released a note about Galaxy S5 features, that's attached below.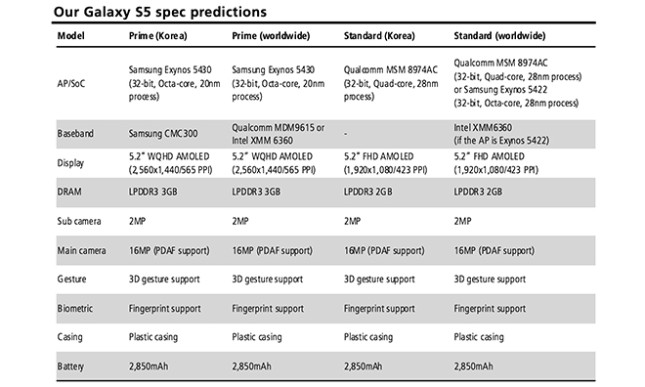 Moreover, Iris scanner will not available in Galaxy S5. But its confirmed that Samsung is working one this technology and future devices from company will have Iris scanner. But Samsung fans will surely enjoy addition of fingerprint scanner in the upcoming Samsung Galaxy S5.