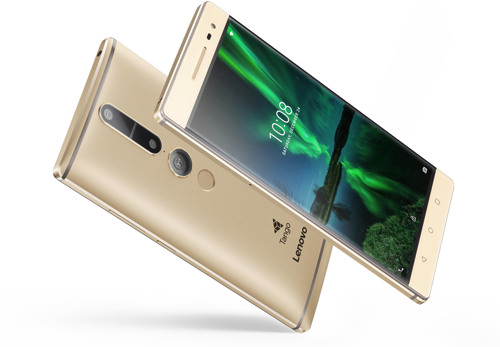 After dominating the Laptop series, Lenovo decided to step up it's game in the android market debuting the first ever Lenovo smartphone in 2012-13 and making constant improvements and giving serious competition to the rival companies in the mean time.
Announced in mid 2016, Lenovo Phab 2 Pro is the company's latest innovation; and when we say innovation, we literally mean "innovation". It is releasing in November 2016 and for rival companies, Phab 2 Pro is a serious deal
Lenovo's Latest Feature: Tango
As we had mentioned "innovation" in the introduction, Lenovo Phab 2 Pro is the first ever smartphone to include a new feature "Tango" by Google in the production. Tango is a magical feature that uses AR (Augmented Reality) to virtually bring up objects and tools when using different apps and utilities. Tango is altogether a fresh new experience of future technology collaborating with today's classic smartphone innovation. You have to just look through the phone and multiple virtual objects would appear in real time on your screen. And Lenovo, so far is the first one to bring this technology into their line up leaving the rest of the android market to follow the code sooner or later.
RAM and Processor
Other than just incorporating fancy technology from the future, Lenovo made sure to add enough power to give their arch rivals a serious blow. Lenovo has a 4GB RAM and has a 1.8 GHz octa-core processor.  Now that is some serious power. Also the Lenovo Phab 2 Pro comes with the latest android software v6.0 (Marshmallow).
Battery and Memory
As if raw processing power and tomorrow's technology wasn't enough, Lenovo Phab 2 Pro has a 4050 mAh Li-Ion battery to make sure you have enough juice to last you a day or two easily. Lenovo Phab 2 Pro has an internal memory of 64GB with an optional SD card option of external memory extend-able to 256 GB.
Camera and Color Schemes
If you love taking photos or are a photogenic, don't worry because the Lenovo kept that in mind while designing the Phab 2 Pro. Phab 2 Pro has a 16 MP back camera and an 8 MP front camera so that all the selfie lovers out there can flaunt off their charm.
Phab 2 Pro comes in only 2 colours although: Gunmetal Grey and Champagne Gold.
Our Verdict
Lenovo Phab 2 Pro is a powerful and innovative smartphone, the inclusion of Tango makes the Phab 2 Pro more interesting and mysterious in its ways since it's the first smartphone to include the technology. Other than just that, the Phab 2 Pro has a beautiful sleek design and not let the looks fool you, Phab 2 Pro is a powerful device. It'll surely be something of its kind when it hits the global market this November. We love the technology and the idea and we hope you people would like it too.
Share your thoughts in comments.