Last night was a big night for the Londoners as Lady Gaga opens iTunes festival with Boom and tonight POLICA and Sirgur Sur will perform. Lady Gaga Gaga just did the same what we were expecting from her.  Lady Gaga stepped on the stage and presented "AURA" as her first performance after recovery from Hip Surgery. The 1st first night of the festival lasted for one hour and during that one hour Lady Gaga performed 8 new songs from her latest album "ARTPOP" which is also available on Amazon —> ARTPOP CD
.
Let me give you the highlights of the iTunes festival night in some short points.
1. Lady Gaga performed 8 brands new singles from ARTPOP.
2. Lady Gaga Changes her costumes for the 8 time equal to the number of the songs.
3. Lady Gaga changes the Wigs and Costumes on the stages in front of her fans and also gave her fans the glimpse of her real hair.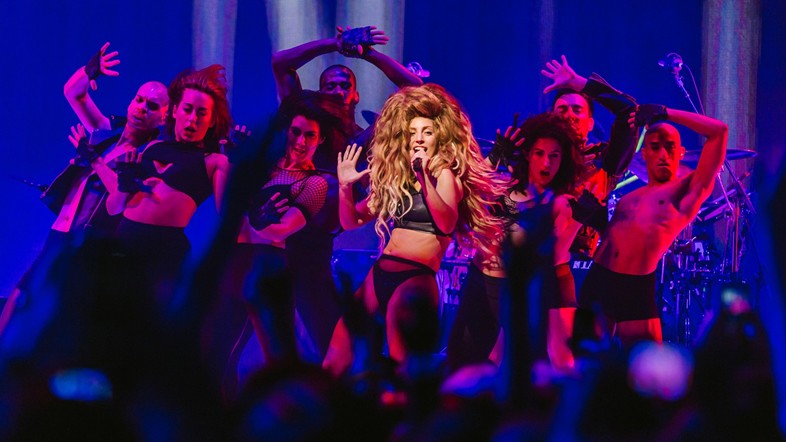 4. Festival lasted for 1 hour and lady gaga was half an hour late.
5. Her fans were dressed according to the dress code dedicated by the singer, including pig snouts and trash bags.
6. Adele, Neil Horan and some other celebrities also watched the iTunes festival last night.
7. Songs performed by Lady Gaga were
Aura
Manicure
ArtPop
Jewels & Drugs
Sex Dreams
Swine
I wanna be with you
Applause
"Now just wait for tonight because Sigur Ros and POLICA are ready to blow the world"
These are the highlights of the last night performance by Lady Gaga at iTunes festival, Roundhouse, London. But Tonight POLICA and Sigur Ros will entertain the whole London with their amazing hits. These two bands are expected to perform some of their best songs. But I would love to listen "Wandering Star From POLICA" but the fun will be doubled if they give the same dance performance as they did in Wandering Star's official video. You can watch iTunes Festival live on your iPhone, iPod , iPad ( Using iTunes festival App ), on Mac and Windows ( Via iTunes ) and on Apple TV. Any song which you would love to hear tonight from Sigur Ros and POLICA? Mention in the comments and stay in touch with us for more updates about iTunes Festival 2013 London.