Today one of the most prominent business is buying shares of other companies. Although in this business if you want to earn a lot then you have to invest a lot too. But small investors can also make huge money in this business depending on their luck, plan, experience and work. In our recent update we had discussed how companies increase their market cap or market capitalization. But today we are going to discuss things to thinks about company before buying shares of it, list is below.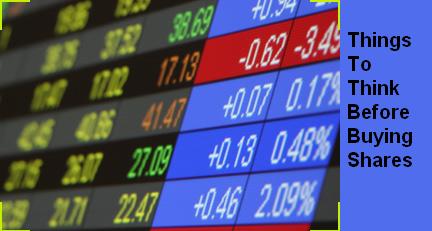 1. What was their first stock price
Know the most important  thing to do before buying shares of any company  is knowing the stock price chart of that company. You have to know what was the first stock price of the company and then when it increased or decreased. Better to find or create a chart showing you all time stock price of any company, look when stock price was high, when it was decreased, what is its all time highest stock price and what is the major fall in stock price of the company ever and then determine the average stock value for stock of the company.
Note: These values will provide you estimated idea about the progress of the company in the past but most recent progress matters more then company's progress in starting time.
2. What Customers Think About The Companies Product
This is another important thing to think about before investing in any company. Because if customers are happy with company's products then you should invest in that because its growing. But if customers are not happy with the products of company then that company is surely going to die with its current products. Customers are everything for every company if its customers are happy then the company is successful if they are not then its always risky to invest in that business.
3. Look What's The Trend For Buying Shares
Another way to determine the current progress of any company it to look at the buying and selling trend of the shares of that company. If shares' owners are selling the shares then that's mean they are not making money, So you should never invest in business which is unprofitable. If every investor is trying to buy the shares of that company then that's mean the company is profitable.
4. Look At The Yearly Income Reports
Another way to determine the value of the company is "looking at the income sheets of that company". By going through the yearly income sheets of any company you can see that how much company have gained every year.
5. Is Company Makes Products Of Your Interest?
If company makes products of your interest then you can do business in a better way. If company is not making products of your interest then first you should get some knowledge about that business to it better. Because through this way you can maximize your profits.
Know the best about Things to think about company before buying shares of it:
We have listed some valuable tips here but never forget "If you can't hold any company's shares for 10 years then you should hold them for 10 seconds". We hope you will like the stuff but stay in touch with us because there is coming more.