T-Mobile Galaxy S4 is one of the most powerful smartphone in market. Galaxy S4's hardware specifications are capable of doing big things with root access. That's why today we are going to tell you about the most easy way to root T-Mobile Galaxy S4. You just have to follow the 5 easy steps listed below.
But before advancing to the tutorial remember, root access gives you the more control over device. But its also risky to go through the root process, you may brick your phone during the process and after root you will also not able to claim the warranty. For more disadvantages of rooting checkout these reasons why you should not root your android phone. If you still want to test the root drive then follow these steps.
1. Backup your Device ( Optional but recommended )
First of all you need to backup your device. Connect your device with your PC and copy all of the date in your computer. For SMS backup use any of the best SMS backup apps from the Google App store.
2. Install necessary software of the PC ( Required )
As you know you need to involve your computer in rooting process. That's why you have to download and install some programs required for rooting T-Mobile Galaxy S4. In this process you will need Samsung USB drivers, Odin and CF-Autoroot for Galaxy S4. Download all this stuff from the links below.
After downloading CF-Autoroot Unzip the package.
3. Enable USB Debugging and restart phone in Download mode ( Required )
Now you need to prepare your phone to run the process. First of all you need to enable USB debugging in your T-Mobile Galaxy S4. For that go into the settings>About Tablet>Build number> Tap it seven times to unlock developer options. Now go into the developer options to enable USB debugging.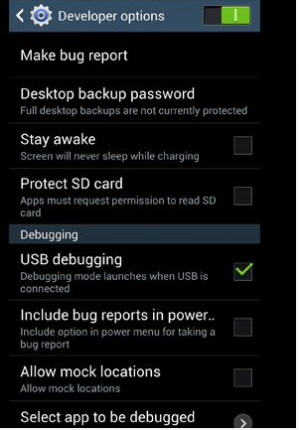 Now you have to restart your phone in download mode. Connect the phone with computer via USB cable, turn off the phone and than press and hold volume down key+power button+home button to start the phone in download mode.
4. Run process ( Required ) – Root T-Mobile Galaxy S4
Now you need to do the actual work. After the connecting the with computer in download mode start Odin. Look at the ID:com which will be yellow indicating that COM port of the successfully attached T-Mobile Galaxy s4 is detected. In the PDA section select the location where you have unzipped the CF-Autoroot.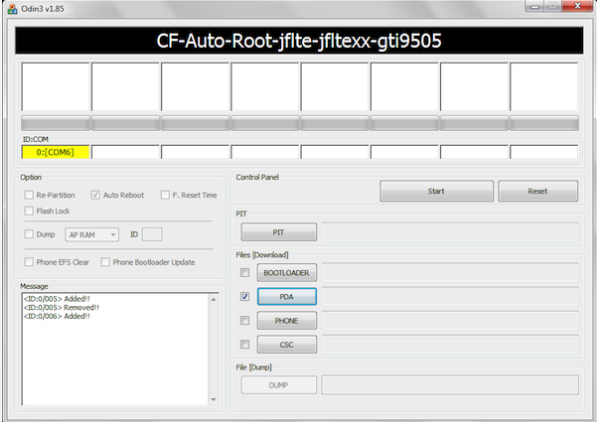 Now click on the start button located on the right side of the screen. After that root T-mobile Galaxy S4 process will be started, once completed phone will restart and show a red android logo, but don't touch the screen in that state and let it run through the boot. That's all your Galaxy s4 is rooted now.
5. Check the root
Now you have to check whether you have successfully rooted your phone or not. To check it out install Root Check app from android app market.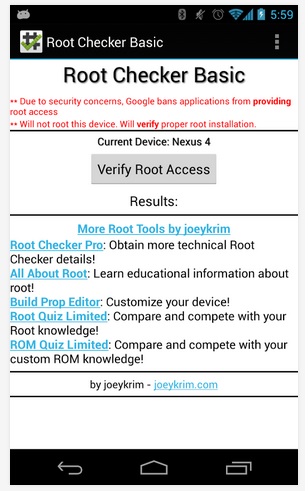 Note: Checkout this awesome guide
about android rooting.
So, that's all about root T-mobile Galaxy S4 in 5 Simple steps. We hope you will like the stuff but stay in touch with us because there is coming more in hacks and tutorials.