Everyone should know how to change homepage in Google Chrome. Because some times some useless plugins or extensions which mainly comes with torrent downloading software and other type of programs try to capture the homepage of your web browsers. In this situation you can easily change the homepage in Firefox, Internet explorer and other browsers but in Google chrome its little bit tricky to change  the homepage as there is no "Homepage" like word in Google Chrome settings. But its very simple to change the homepage settings, just follow the simple steps described below.
1. Go To Menu
First of all you have to go in to the Google Chrome Menu. Move the mouse cursor to the top right side of the screen than click on menu option as shown in the screenshot below.

2. Open Settings
Now you have to open Google Chrome Settings, click on settings in Google Chrome menu as shown in the screenshot below.

3. Appearance settings
Find "Appearance settings and check show home button". After checking "Home Button" option a new option will appear click on that.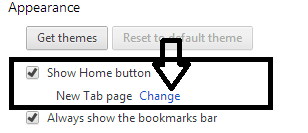 4. Choose your homepage
Now you can choose your homepage, you can set any web address as your homepage or you can choose "New tab page" as Chrome homepage as shown in the picture below.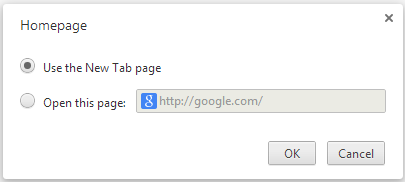 So, this is how to change homepage in Google chrome. If any weird web address is still opening on start up of Chrome then you have to change "On Start-up" settings in  your browser. We hope you will like the stuff but stay in touch with us because there is coming more.