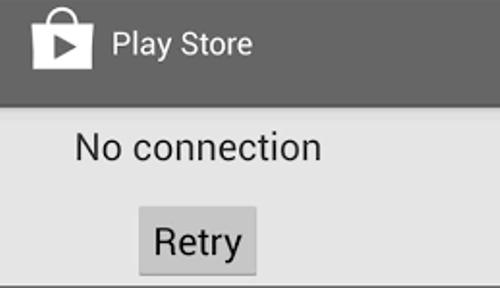 Often we hear from users that their Google Play Store app is not working while everything else seems to work fine. They are able to use web browser, play online games and able to perform other things that require internet but Play store giving "No Connection, Retry" error message.
Tips to solve Google Play Store No Connection Error.
Here are the things you can try if your Google play store app is not working. Follow the tips below to solve Google Play Store No Connection errors.
Clear Play Store App Cache:
Clearing Google Play store app cache resolves no connection error in some cases. Cache temporarily stores the data which helps you to quickly access the app when you open it next time. It just makes the app to load quicker and clearing the cache will do no harm.
Here are the steps to clear the cache
Go to Settings and open the apps section.
Choose "All" apps and then find Google Play Store app.
Tap on the play store app and then tap on "Clear Cache" and "Clear Data"
Check Date and Time Settings:
Google Play store app synchronizes time and date with their servers so it is necessary that you have correct time and date on your phone. Lot of users are facing no connection issue because of incorrect date and time settings. To make sure your date and time settings are correct and time zone is properly selected go to settings > Date & Time and select Automatic Date and Time or manually set the date, time and time zone.
Login/out of your Google account:
Logging out of your Google account and then signing in again may do the trick.
Go to Settings > Accounts > Google.
Select your Google account and tap on "Remove account" in top right corner.
Restart your Smartphone and then enter Google account email and password again by going to Settings > Accounts > Add Account.
If you have changed your Google account password on your PC then you need to update it on your Smartphone as well. Logging in/out will update the password and will help Google Play app to function properly.
Uninstall Updates:
If the above fixes doesn't work for you then try going back to the original version of the Play store app (the version which was first installed on your device). Sometime new updates don't go well with your phone so uninstalling these updates may solve the connection issue. Go to Settings and find Google Play Store app and then tap on "Uninstall Updates".
Delete or Edit Hosts file:
If your device is rooted then there is a simple fix which works most of the time. Open file manager and go to system/etc/hosts and open Hosts file. Insert the # symbol before second set of IP addresses (change from 127.0.0.1 to #127.0.0.1) Restart your phone, remove Google account, and add it again and problem will be solved. If editing the hosts.txt file doesn't work then try deleting the hosts.txt file.
Factory Reset your Phone
If all of the above mentioned tips doesn't work for you then it's time to do a Factory Reset of your phone. Factory resetting will clear all data so make sure to have a backup of all your contacts and other important data before performing factory reset.
Go to Settings > Backup & Reset > and then tap on "Factory Data Reset" to reset your phone to the original condition.
That was all from our side. Let us know if these fixes worked for you or not and don't forget to share some other tips and tricks that helped you to solve Google Play store No connection errors.