Android is the most innovative smartphone operating system, in android app market their are tons of apps of every type. Today we will list 10 best android travel apps. If you are going to visit Switzerland for fun with your family or with your friends then these are the must android travel apps for you to install in your phone. Because these will help you a lot in every moment of traveling.
Some of these android travel apps can also be used by other travelers. Because these work worldwide and other apps are specially chosen for the tourists visiting Switzerland. These apps will help you in eating good and healthy meal, in finding most suitable restaurant, in finding most suitable hotel to stay in and some other useful benefits will be provided by these apps, lets start now 🙂 .
This is the must have android app not only for the tourists visiting Switzerland but for every smartphone user. Why this is so important ? Google maps is very important because it knows about the every corner of all of the countries. Google maps travel app gives direction to your destination, tell you about the distance and much more, just give it a try.
2. places ( preinstalled in every android device )
Both these android travel apps are very important for you when you are in a strange city. If you are visiting Switzerland for the first time then you probably don't know where is the best near restaurant or where is the nearest ATM to draw out some cash. Don't worry Google places will tell you about everything like hotels, ATM machines. CNG and Petrol station and much more.
Swiss traffic android app gives you real time directions to your destination, tells you about road repairs, accidents and road blocks, So you can change your route in time. It also tells about the speed limits and also gives weather report for the next 5 days.
WiFi Finder is another must have android app because all of the apps mentioned in list works with an internet connection. Surely you will buy another Sim card according to the country you will be visiting and you will also buy a suitable data package, but what if you can save that data charges and can buy another gift for your wife? Yes! It is possible with WiFi finder android app which will find many free WiFi hotspots all over the world to save your money.
Hotels.com let you find best place to stay all over the world. Hotels.com android app covers more then 154,000 hotels in more then 200 countries of the world. It also gives different offers, deals and coupons to get discount from. You can find and book simple living rooms to 5 star luxury rooms with Hotels.com android app.
Must have app for every smartphone user, Whatsapp let you send free SMS to any phone number all over the world. Tourist can use Whatsapp to send and receive pictures, video messages, audio notes and texts all over the world. This app will save a lot of money of you all the time, interesting is that you send SMS to any phone number with your own number off.
Everyone who is traveling to a strange place should install Google translate in their devices. Google translate let you translate between 60 most used languages in the world. Available translate options are speech or voice translation, camera input and text.
Onthefly tells you about the your air journey, the most useful feature of onthefly is that it also tells you about the most suitable time of traveling after knowing your trip length, destination and other things. It also calculate your fare expenses.
9. KAYAK – Travel Apps
KAYAK android app lets you find best deals for flights, cars and hotels. You can also book your flight right from KAYAK android app. You can also track your flight status and can also compare different deals to find the most suitable.
Calorie Counter is another best among must have android travel apps. Calorie Counter keeps eye on what you are eating and what you have burned to keep you fit and healthy. While traveling people mostly eat fast food that's why they should use calorie counter.
Sponsored Listings ( To Place Your App Here Contact Us )
myTrip android app is another great addition in the travel apps for android. According to the developers, "Trip always begin before the start date because before that every traveler have to plan a lot for the trip". For that purpose myTrip android app is best to plan and enjoy your trips. Its main features are Travel planning, place exploring, flight information, shopping list, things to do and some other great features. This app is free and to download it click on the title above.
2. Rebtel – Make Free Calls With Rebtel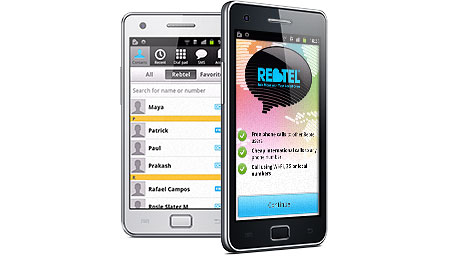 During travelling travellers also need an android application which can connect them with their friends and family. That's why here is a new addition in travel apps for android. Rebtel will let travellers make free calls all over the world. What I like most about Rebtel is that it's available for iPhone, android, windows phone and windows PC. Its users can make free calls all over the world with WiFi or fast data connection. Another good feature of Rebtel is that its users can also make cheap mobile or landlines calls anywhere in the world, you should try it because Rebtel always cost lesser than normal international calling rates.
Know the best about Must have android travel apps for the tourists visiting Switzerland:
In this list of android travel apps we have listed those apps which will make your trip to Switzerland memorable. These apps will help you in finding best places to stay, visit, eat and joy. We hope you will like the stuff but stay in touch with us because there is coming more.