We all love to sit back, relax and turn on the TV as soon as we get free from our hectic daily routine. As much as we love enjoy watching TV, there are always some days when you don't get the time to watch your favorite shows on TV and unlike on internet, you can't save or download your favorite shows to watch them later. That's why YouTube has announced a live TV service. Of course a person's not in control of what shows on TV and when, there's a specific time for each show and if you miss one, you have to wait for it to repeat. Keeping that in mind, the YouTube TV is a live streaming service which includes cable TV entertainment as well as the original YouTube content.
What is YouTube TV?
YouTube TV is basically just like cable TV except the fact that it's live TV and you can save your favorite shows to watch later once you get the time to. YouTube offers a total of 40 channels and might add a few more later on. Until then the basic package is priced at $35.
YouTube TV directly competes with Cable TV  and other providers like Sling TV, PlayStation Vue and DirecTV all offering different features in different price ranges with the lowest at $20 for Sling TV.
 Features offered by YouTube TV
YouTube TV has a lot of features to offer including;
Cloud with unlimited storage
This is an amazing feature, you can save your shows for later and unlike many of the YouTube TV competitors, you don't have to worry about storage since YouTube TV offers unlimited storage space. You can save content or live TV up to 9 months in the Cloud.
6 user profiles with separate sign-in.
YouTube allows 6 accounts per membership with independent Cloud storage (of course unlimited). Each account can be signed in with different password making YouTube TV membership more secure, easy & friendly.
Compatible with Chromecast, Laptops and both android and IOS devices.
If you're TV has an inbuilt Chromecast, YouTube TV will be compatible with your TV. If not, don't worry it's also available on Android and IOS devices. So you can save and watch your favorite shows on the go.
Channels offered by YouTube TV & availability.
So far we're certain about only 44 channels, but the number of channels might increase later on. The channels offered by YouTube TV are generally news, media, sports & entertainment. However, many of the mainstream channels such as Comedy Central, Discovery and others are missing. YouTube however has said that they are in talk with other channel providers to include in the channels list. Nonetheless YouTube TV would also offer YouTube Red shows & movies as well as online content.
While the whole concept sounds promising, the availability of YouTube TV raises questions. Unlike its competitors, YouTube TV won't launch nationwide, it'll be available only in a few selected cities yet to be confirmed. But we're optimistic about YouTube expanding its services to more cities.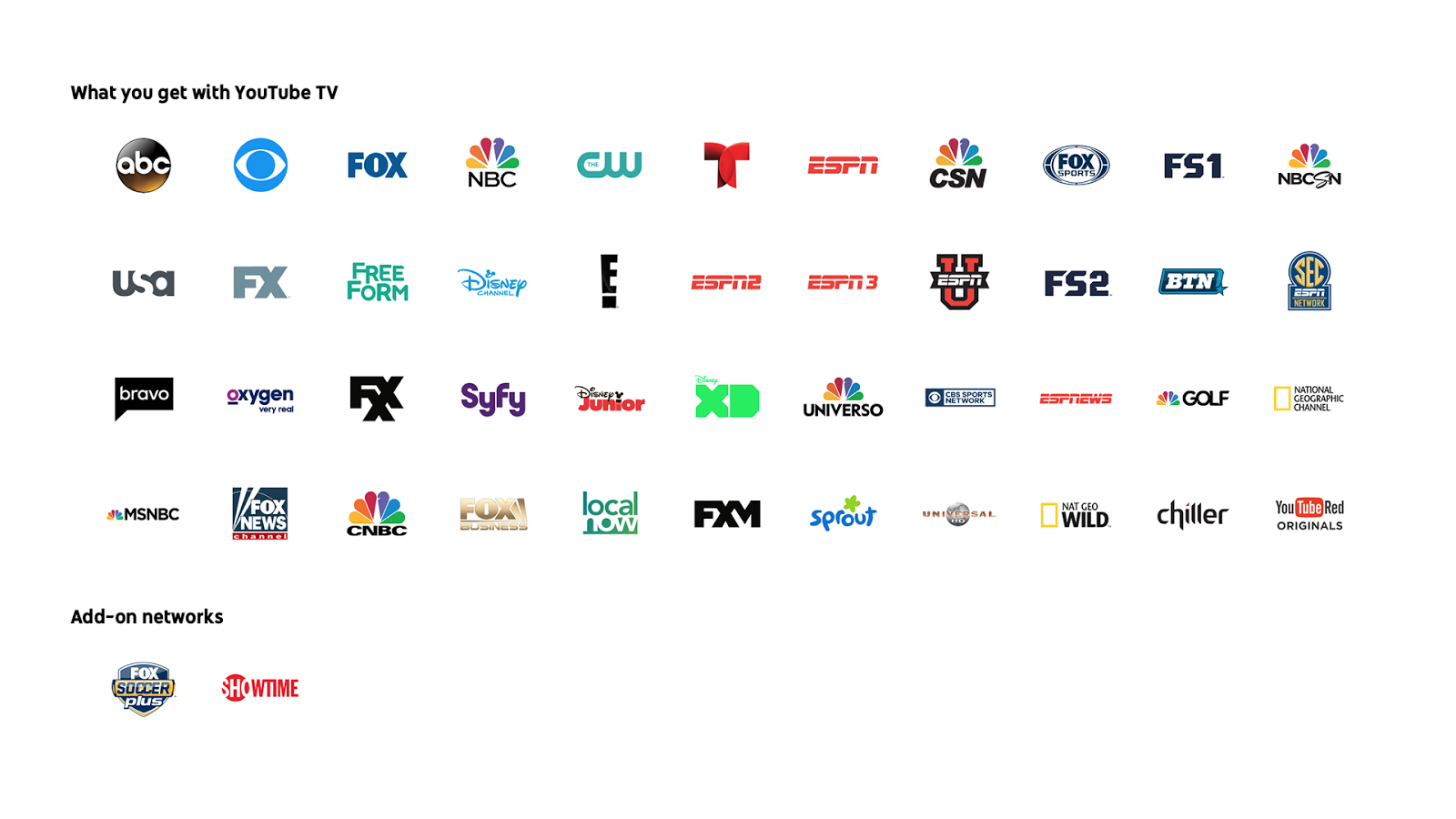 What do we think of the YouTube TV?
YouTube TV is definitely cheaper than cable and offers much more. But in terms of channels and availability, cable is far more ahead but that doesn't make YouTube TV any less interesting. YouTube is trying to add more channels & if they do, the price would still remain the same so considering that the YouTube TV still has a couple months before launching, we're optimistic that YouTube might add a couple new channels and we're also sure, YouTube would expand its services to more cities.
But anyway it's safe to try since you can cancel whenever you want to.