Today, in the European countries most of the students don't attend universities and colleges to get higher education which can help them to get good paying jobs. There could be many reasons behind this fact, but the most important reason behind this fact is lack of funds or money which they can spend to get higher education. This is because of the high fees of the "good" universities and colleges.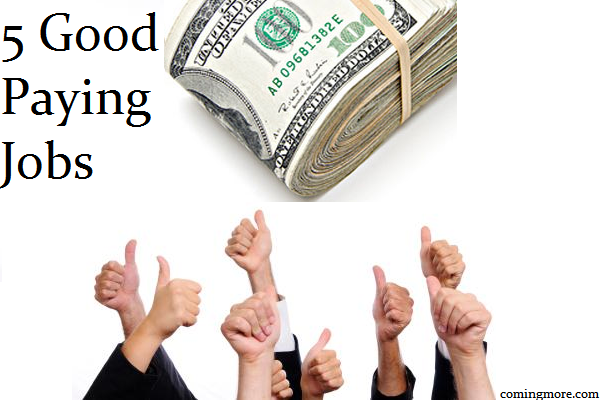 But there are some jobs which pays enough and important thing is that there is no special condition to apply for those jobs. Below is the list of 5 good paying jobs which don't require specials skills and experience.
1. Be A Marketer
This is my favorite job, if I need a job then I'll definitely go for marketing. Because this is a job which is just like a business. Its up to you how much you can earn, its up to you how much you can deliver just like your own business. Usually all of the good reputed companies offer good commissions to their marketing agents, So as much product you will sale as much money you will earn. In marketing you may earn 3 digits' income or you may earn money in 6 digits but choice is always yours because both options are possible. Important thing is that you can get this job without any experience or without showing any special skill.
2. Library Supervisor
If you are looking for some good paying jobs then you could think about Library supervisor position. In this job, you just have to look after the books mostly, but some other works like account handling may include in your job. This job usually require a higher school diploma in related field, which is not difficult to pass. Average yearly income of Library supervisors is about $ 40,000.
3. Truck Driver – Good Paying Jobs
Another good choice among good paying jobs which don't require special skills. Usually truck drivers get good pay in return because they have to carry a lot of weight from one place to another, another reason is that Truck is counted in heavy traffic vehicle which is little bit difficult to drive. But to maximize your income as a heavy truck driver, you may search for a job in any "government department or in a big local industry because they pay well enough".
4. Receptionist Jobs
Doing job as receptionist in big hotels and in big hospitals can help a lot in making enough money. But finding job in big hotels is more better then hospitals, because usually hotels pay more. Average yearly income of a receptionist is more then $ 35,000.
5. Multi Store Manager
If you are a business and finance student and you are searching for good paying jobs then this job suites you a lot. Because most of the multinational and multipurpose stores prefer business or finance students for this job. Another important thing is that yearly average income of store manger is more then $ 40,000.
Know the best about 5 Good paying jobs:
This was the list of some good paying jobs, which don't require any special kind of skills, experience and education. In other words anyone can apply for such jobs. But we don't recommend anyone to leave studies and find these jobs, because if you are well educated then you can find better jobs then these listed here. We hope you will like the stuff but stay in touch with us because there is coming more.